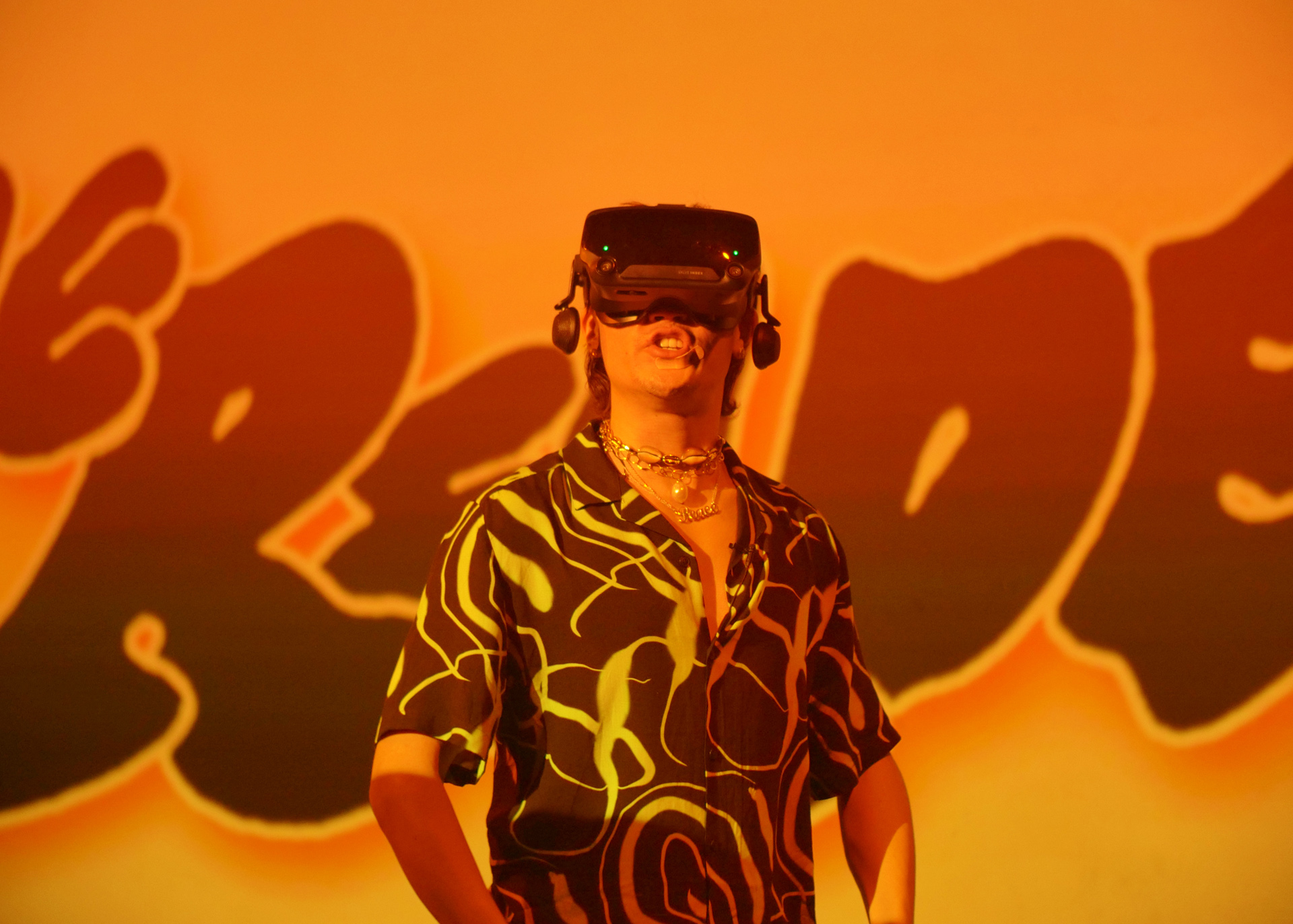 Work exhibited at School of Waters

1.
Anti-Gone (2020)
Performance in Mixed Reality
Commissioned and produced by Onassis Culture, Athens
Special thanks to The Breeder, Athens
Livestreaming from Los Angeles Studio, USA and Teatro Titano, San Marino

2.
Anti-Gone (2021)
Performance in Mixed Reality
Livestream Recording from Teatro Titano, San Marino
Commissioned and produced by Onassis Culture, Athens
Special thanks to The Breeder, Athens

Credits (Live Stream Edition)
Director: Theo Triantafyllidis
Writer: Connor Willumsen
Production Manager: Polina Miliou
Key Collaborator: Matthew Doyle

Performance Team
Cast: Lindsey Normington, Zana Gankhuyag, Sam Congdon
Composer and Live Music Performance: Cameron Stallones
Game Engine Performer: Rachel Ho

Game Engine Team
Lead Artist: Theo Triantafylldis
Lead Programmer: Stalgia Grigg
Lead 3D Character Designer: Joseph Melhuish
3D Artists: Sara Drake, Ryan Decker, Siyao Zheng

Commissioned and Produced by Onassis Culture

Motion Capture technology provided by Noitom MoCap

Special thanks to:
Sundance New Frontier
The Breeder Gallery
Meredith Rosen Gallery
Human Resources Los Angeles
UCLA Design Media Arts

About the artist

Theo Triantafyllidis (1988, Greece) is an artist who builds virtual spaces and the interfaces for the human body to inhabit them. He creates expansive worlds and complex systems where the virtual and the physical merge in uncanny, absurd and poetic ways. These are often manifested as performances, virtual and augmented reality experiences, games and interactive installations. He uses awkward interactions and precarious physics, to invite the audience to embody, engage with and challenge these other realities. Through the lens of monster theory, he investigates themes of isolation, sexuality and violence in their visceral extremities. He offers computational humor and AI improvisation as a response to the tech industry's agenda.

He holds an MFA from UCLA, Design Media Arts and a Diploma of Architecture from the National Technical University of Athens. He has shown work in museums, including the Hammer Museum in LA and NRW Forum in Dusseldorf, DE and various galleries such as Meredith Rosen Gallery, the Breeder, Eduardo Secci and Transfer. He was part of Sundance New Frontier 2020, Hyper Pavilion in the 2017 Venice Biennale and the 2018 Athens Biennale: ANTI-. Theo Triantafyllidis is based in Los Angeles.


Fig. 1 - 3.
Theo Triantafyllidis, Anti-Gone (2020), performance documentation, mixed reality performance, variable dimensions. Courtesy the artist and Onassis Foundation.