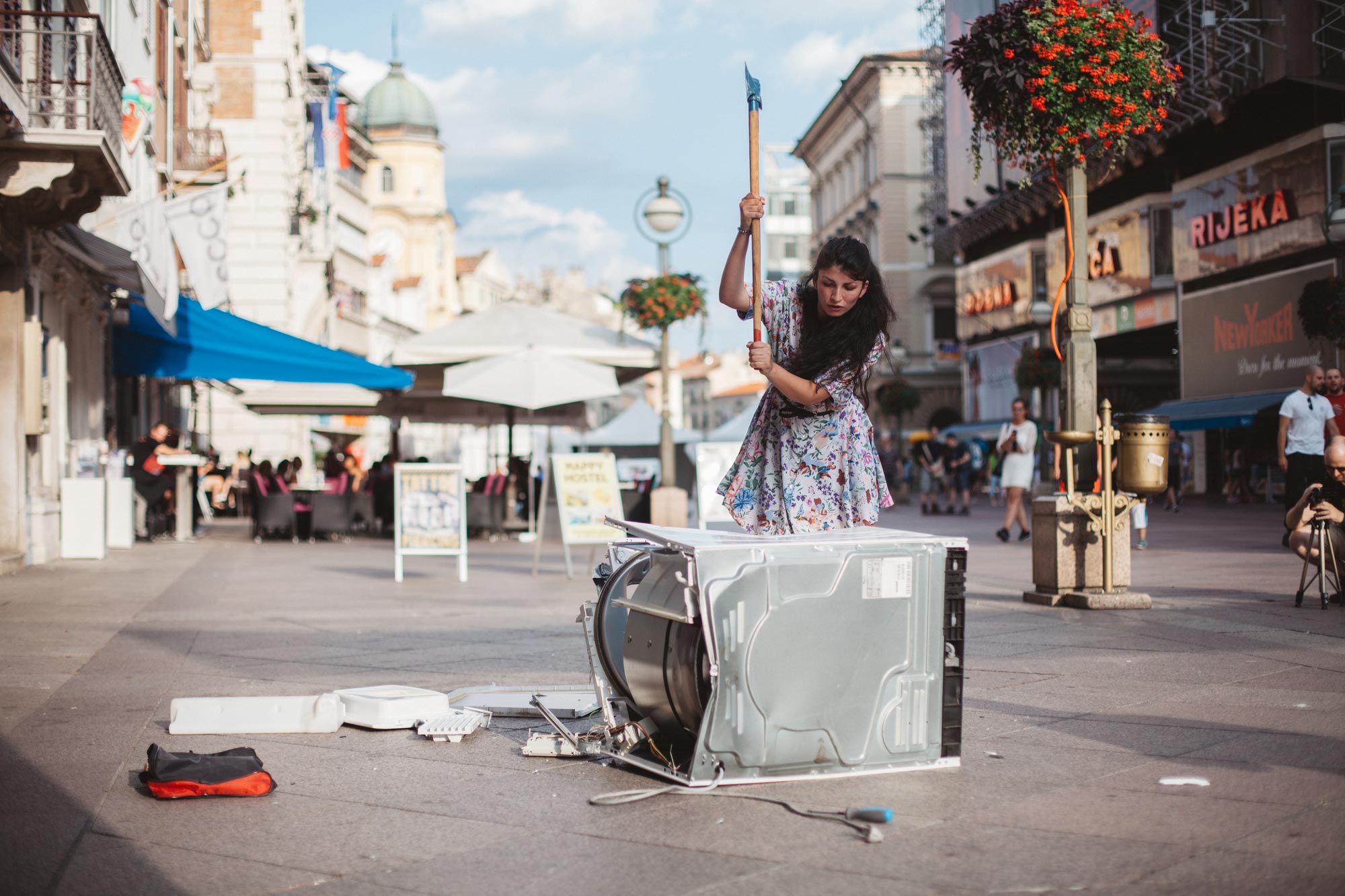 Selma Selman (1991, Bosnia and Herzegovina) comes from Bosnia and Herzegovina and is of Romani origin. She earned her BFA in 2014 from Banja Luka University's Department of Painting and in 2018 she graduated from Syracuse University, MFA - Visual and Performing Arts in the USA. In her artworks, her ultimate aim is to protect and enable female bodies and enact a cross-scalar approach to collective self-emancipation of oppressed women. Her search for functional, contemporary political resistance stems from her personal experience with oppression from various directions and scales.
In 2014 Selman was the recipient of the
Zvono Award
, given to young artist in Bosnia. Selman participated in Tania Bruguera's International Summer Academy in Salzburg,
Arte Util
in 2013. In 2017 Selman was awarded
Trieste Contemporanea Award
, Trieste (ITA). In 2018 she was nominated for Forbes 30 under 30, Art and Style. In 2019 she was the winner of the White Aphroid Award, Maribor (SLO), as well as the winner of the "Power of Excellence Award", by Association of Business Women in BiH and Magazine Grazia, Sarajevo (BIH). Her works were shown internationally at 58th Venice Biennale in Venice, Kunstquartier Bethanien in Berlin, Kunsthalle Wien in Vienna, acb Gallery in Budapest, New Children Gallery in New Orleans, L'Onde Center for Art in Paris, Queens museum in New York, The Creative Time Summit in Miami, Museum of Contemporary Art in Banja Luka. Villa Romana in Firenze, Maxim Gorki Theatre in Berlin, Galerie Boutique in New York and many more. Selma is a founder of the organization "Get The Heck To School" whose aim is to empowering Roma girls who faced the ostracization from the society and poverty. Lives in both the USA and Europe.
Fig. 1.
Selma Selman, performance documentation, Superposition (2018),
live performance, 3 rounds of boxing each, 3'00 min. Studio Tommaseo, Trieste, Italy. Photo by Fabrizio Giraldi.
Courtesy of the artist

Fig. 2.
Selma Selman, video documentation of Self-Portrait Performance, 45'00 min (2017), acb gallery, Budapest, Hungary. Photo by Tibor Varga Somogyi,
Courtesy of the artist

Fig. 3.
Selma Selman, video documentation of Self-Portrait Performance, 18'00'' (2016), Rijeka, Croatia. Photo by Tanja Kanazir,
Courtesy of the artist