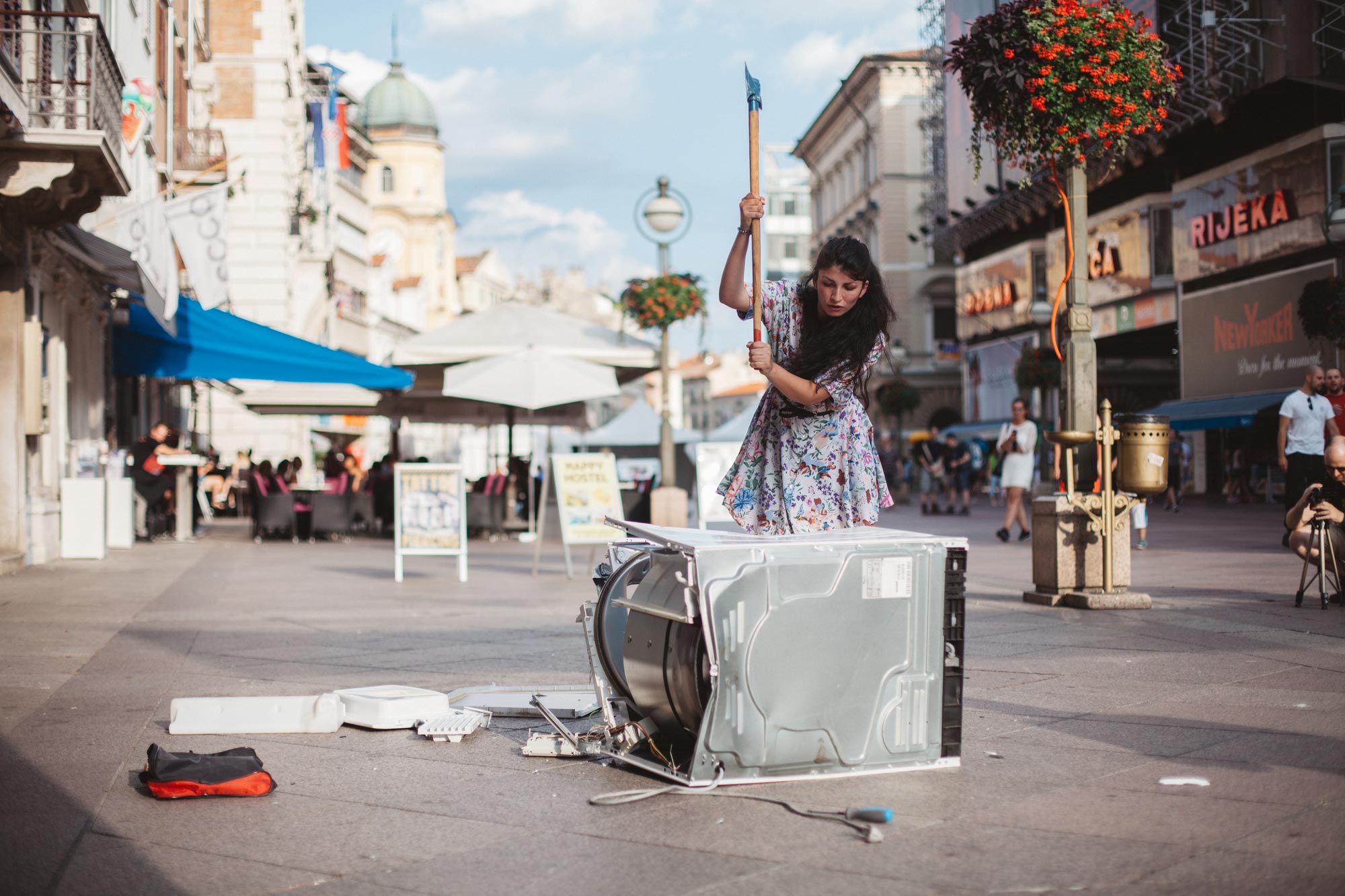 Work exhibited at School of Waters
SUMS
Haram
(2019)
HD Video, 10'
"Haram
speaks of religion and waterboarding. No matter which God I believe in - as a woman who disobeys social rules that I'm subjected to, I am constantly making sins. In order to clean myself of my accumulated sins, I am washing myself with pure water. According to many cultures and religions, water is the only way to clean yourself and become clean again. This work is also related to state practices of waterboarding and the struggle to maintain oneself while drowning in a foreign land as both refugee and immigrant."
Salt Water after 47
(2016)
HD Video, 5'46''
"Salt Water after 47" relates the narrative of my mother's first contact with the sea. She had a life-long desire to see for herself if it was really salty. Just like she heard that it
was. In
this video, I captured her first moment at the sea and her reaction. "After 47" refers to her lack of documents when she migrated from Kosovo to Bosnia. Culturally, the act of a woman leaving her paternal home to live with her "husband" is perceived as a marriage, whether or not it is officially recognized by the state or religious
authorities. At
age thirteen, my mother was unofficially married to my father who was aged seventeen. However, the marriage was not state
certified. After
the dissolution of Yugoslavia, my mother was left stateless. In 2014, after years of negotiating with the authorities of Bosnia and Herzegovina, she managed to obtain Bosnian citizenship. After 47 years in total, she received her first passport. After 47 years, I helped her wish come true. I took her on a vacation to the sea."
NO SPACE
(2019)
Video recorded and edited by Chongha Peter Lee
360 video, 10'
Digital Swamp Programme
"The work NO SPACE
is superpositionally
about every possible space
and about all possible people.
The main idea of the work is to
bring the world back
to thinking about the physical realities of Earth
by visualizing how space and belonging
are conceptualized today.
While using a virtual planet
And making my body both
bigger than the Earth,
And as small as your phone screen
I am questioning our conceptions of
physical space and personal belonging.
Paradoxically using an image of my BIG BODY to claim that there is no space
for anyone but me
While performing visually
that there is always
more possible space on Earth
than any image could possibly claim.
Many of us are affected by capitalism's images,
due to capital's disorganizations
of physical reality.
Capitalism makes images
that make physical work invisible.
In response, workers, protesters and I wear high visibility neon.
With so much impossible invisibility
of physical work,
the most direct artwork,
visualizes the physical work
of constructing impossibilities."
About the artist
Selma Selman (1991, Bosnia and Herzegovina) comes from Bosnia and Herzegovina and is of Romani origin. She earned her BFA in 2014 from Banja Luka University's Department of Painting and in 2018 she graduated from Syracuse University, MFA - Visual and Performing Arts in the USA. In her artworks, her ultimate aim is to protect and enable female bodies and enact a cross-scalar approach to collective self-emancipation of oppressed women. Her search for functional, contemporary political resistance stems from her personal experience with oppression from various directions and scales.
In 2014 Selman was the recipient of the
Zvono Award
, given to young artist in Bosnia. Selman participated in Tania Bruguera's International Summer Academy in Salzburg,
Arte Util
in 2013. In 2017 Selman was awarded
Trieste Contemporanea Award
, Trieste (ITA). In 2018 she was nominated for Forbes 30 under 30, Art and Style. In 2019 she was the winner of the White Aphroid Award, Maribor (SLO), as well as the winner of the "Power of Excellence Award", by Association of Business Women in BiH and Magazine Grazia, Sarajevo (BIH). Her works were shown internationally at 58th Venice Biennale in Venice, Kunstquartier Bethanien in Berlin, Kunsthalle Wien in Vienna, acb Gallery in Budapest, New Children Gallery in New Orleans, L'Onde Center for Art in Paris, Queens museum in New York, The Creative Time Summit in Miami, Museum of Contemporary Art in Banja Luka. Villa Romana in Firenze, Maxim Gorki Theatre in Berlin, Galerie Boutique in New York and many more. Selma is a founder of the organization "Get The Heck To School" whose aim is to empowering Roma girls who faced the ostracization from the society and poverty. Lives in both the USA and Europe.
Fig. 1.
Selma Selman, performance documentation, Superposition (2018),
live performance, 3 rounds of boxing each, 3'00 min. Studio Tommaseo, Trieste, Italy. Photo by Fabrizio Giraldi.
Courtesy of the artist

Fig. 2.
Selma Selman, video documentation of Self-Portrait Performance, 45'00 min (2017), acb gallery, Budapest, Hungary. Photo by Tibor Varga Somogyi,
Courtesy of the artist

Fig. 3.
Selma Selman, video documentation of Self-Portrait Performance, 18'00'' (2016), Rijeka, Croatia. Photo by Tanja Kanazir,
Courtesy of the artist