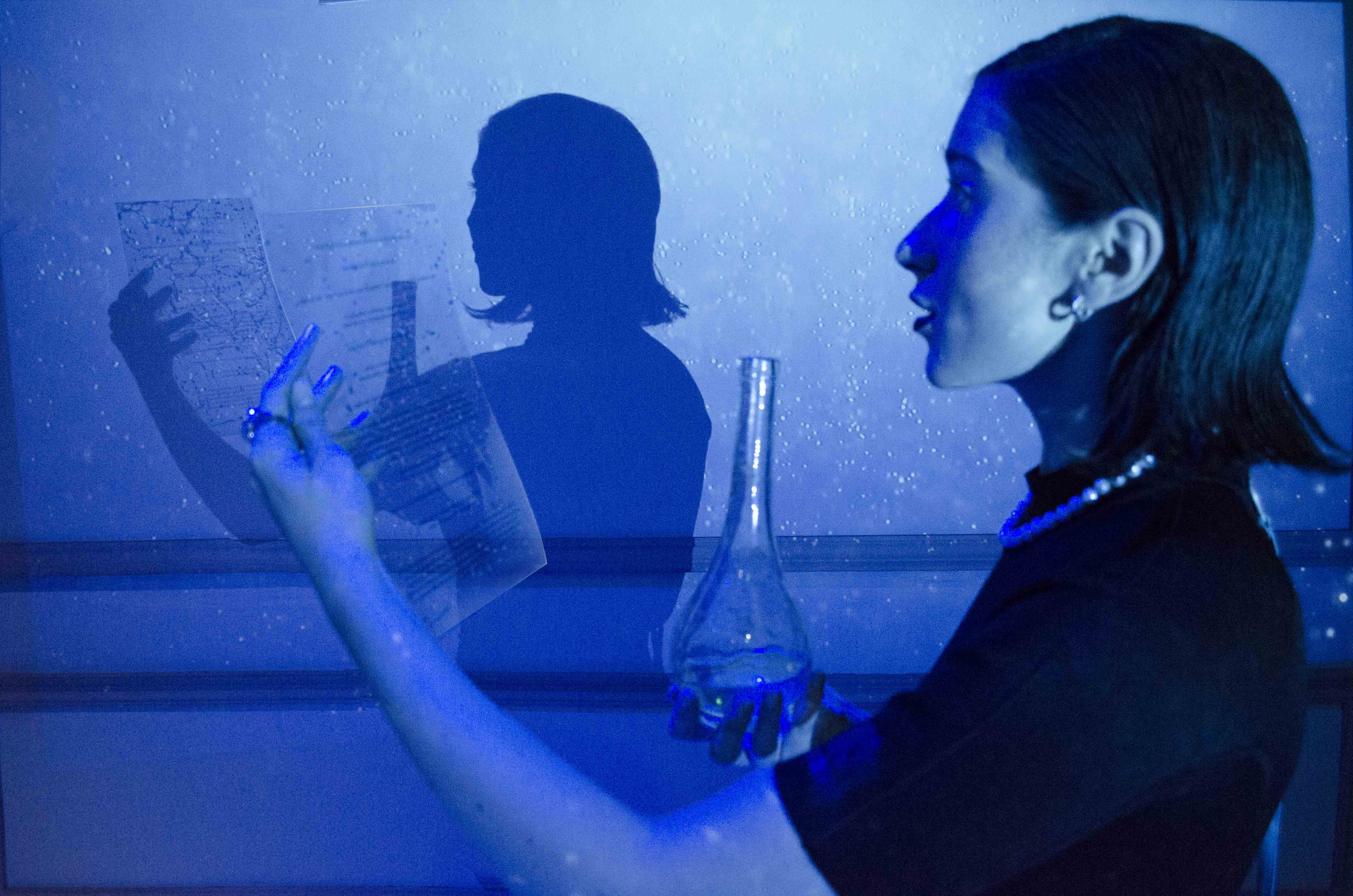 Work exhibited at School of Waters
Amnio-Fountain for Public Space Gestationality
is a performative intervention taking place in July at the fountain at Giardini dei Liburni. A masculinist narrative springs forth from fountains in city squares, boasting man's mastery over nature. Washing over this frozen tradition and soaking in the fluid feminine, the Amnio-Fountain sets the stage for a sonic and textual voyage through possibilities of hydro-feminist sociability and knowledge production. Setting sail from the symbol of the amniotic fluid, the Amnio-Fountain thirsts for a city that overflows with the facilitative, hospitable logic of our bodily waters gestating multiple, unpredictable forms of existence. Overwhelming the individualist, humanist understanding of corporeality, the Amnio-Fountain desires to drown the feelings of disconnect and devastation welling up under the dry, water-soluble logic of the Capitalocene.
The
Leaky Aria
is one of the various texts and music to be performed at the Amnio-Fountain. A contrafactum of Barbara Strozzi's "Che si può fare?" with a new watery libretto, it reimagines the leakiness/boundlessness of womxn within Western discourse as a cauldron where a new ethical-onto-epistemology bubbles. Flushing down the phallogocentrism of tonality, sections of the aria were rearranged so that the vocal line ends not on the self-contained and consistent tonic but on a leakage.
About the artist
Selin Davasse (1992, Turkey) lives and works in Berlin. Her performative practice translates research across various disciplines to textual, visual and sonic textures. Interweaving theory, history and fiction into feminine voices, her work engages with ethical/political impasses and takes shape as multilayered lecture-performances with site-specific installations.

Her performances have been presented at Next Waves Theater at Volksbühne, Berlin (2020), Slavs and Tatars' Pickle Bar at KW Institute for Contemporary Art, Berlin (2020) and Queer Art, Culture and Politics from Turkey and its Diaspora Symposium at Goldsmiths College, London (2020). She has presented Hydro-Salon for Embodied Aqueousness parallel to the 16th Istanbul Biennial (2019) and participated in The Society for Matriarchal World Domination whose collective works are in the collection of the Kunstbibliothek der Staatlichen Museen von Berlin (2019).


Fig. 1.
Selin Davasse, performance documentaion, Head too far West and you End up in the East, 2018
Lecture and sound performance with site-specific installation, 3hd Festival, Kunstquartier Bethanien, Berlin
Courtesy of 3hd Festival

Fig. 2.
Selin Davasse, performance documentation, Hydro-Salon For Embodied Aqueousness, 2019,
Performative salon with site-specific installation, lecture and sound performance, Istanbul
Courtesy of the artist

Fig. 3.
Selin Davasse, installation view, Leaky Aria, 2019
Sheet with music score, a rearrangement of Barbara Strozzi's Che si può fare? with new hydro-feminist libretto, superimposed with Google Earth images of Istanbul.